Tihar top officials accuse jailed minister Satyendar Jain of intimidation, lodge complaint: Sources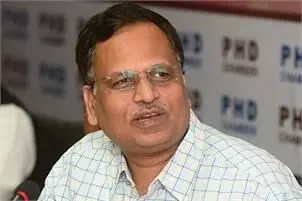 New Delhi: Top officials of Tihar Jail here have accused jailed Delhi minister and AAP leader Satyendar Jain of "threat and intimidation" and lodged a complaint against him with the Director-General (Prisons), sources said on Thursday.

There was no immediate reaction available from the Delhi government or the AAP.
Jain has been lodged in Tihar Jail since his arrest by the Enforcement Directorate in connection with a money laundering case in May. Purported videos of him getting massages and meeting visitors inside the jail had created a furore, with the opposition demanding his removal from Cabinet.
Sources said the Additional Inspector General - Prisons (Tihar Jail), Superintendent of Jail No. 07 (SCJ-7), Deputy Superintendent, Assistant Superintendent and the Law Officer complained to the Director-General (Prisons) that Jain had been "abusing them and threatening them with dire consequences once he gets out of the prison".
Two jail officials complained against Jain in an "incident report" on December 8.
They claimed that Jain threatened them when they had gone to serve a showcause notice to him according to Rule 1,272 of DPR, 2018, with respect to Punishment Tickets, pertaining to November 25, dealing with "Jain's misdemeanours in the jail".
The complainants alleged that Jain "threatened" to teach them a lesson upon his release.
According to the incident report, Jain allegedly said, "I know everything. It's all being done by the law officer. I will take care of the superintendent (Jail No. 07) after getting out. (I) Will get the CCTV footage and teach him how to do his job."
In his complaint, the jail superintendent expressed apprehension that Jain, being a minister, might take action against him and other officials upon his release.
"In view of the above, it is requested that Satyendra Jain may be transferred to some other jail at the earliest."
The Additional Inspector General has noted in a file that the matter might be kept on record in case Jain made "adversarial moves" against him in the future, the sources added.