Sitharaman slams Obama's remarks, cites US 'bombing' of Muslim countries when he was at helm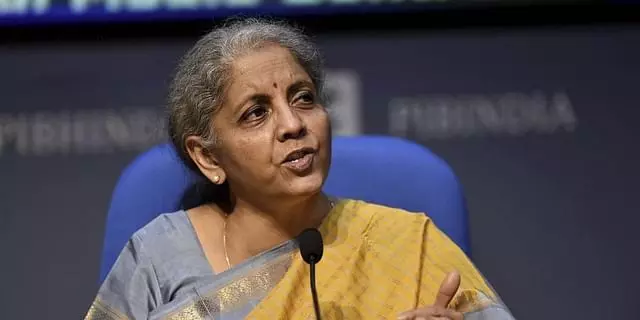 New Delhi: Union Minister Nirmala Sitharaman on Sunday slammed former US president Barack Obama's statement about minority rights in India, saying his remarks were surprising as six Muslim-majority countries had faced US "bombing" during his tenure.

She said Prime Minister Narendra Modi has received the highest civilian awards from 13 countries, including six with predominantly Muslim population.
The finance minister alleged that "organised campaigns" were being run to level "baseless" allegations on the treatment meted out to minorities at the behest of the Opposition as it cannot defeat the BJP electorally under Modi.
In an interview with CNN on Thursday, Obama reportedly said if India does not protect the rights of "ethnic minorities", there is a strong possibility at some point that the country starts pulling apart.
"I was surprised when Prime Minister Modi was... talking about India in front of everyone, a former US president was giving statements about Indian Muslims at that time," Sitharaman said at a press conference at the BJP headquarters here.
"Didn't bombings happen in six countries - Syria, Yemen, Saudi and Iraq and other Muslim countries - during his term (as US President)?" she asked.
"When he makes such allegations, will the people trust him," she said.
Sitharaman also took exception to the allegations by U.S. Commission on International Religious Freedom (USCIRF), saying India wants to maintain a good relationship with the US but she is "surprised" to hear such statements.
"We want good friendship with the US. But from there also, USCIRF's comments about religious tolerance in India comes and the former president is also saying something," she added.
She said it is also important to see who are the people behind them.
The minister alleged that the Congress is "deliberately" raising "non-issues" and levelling allegations "without facts" to vitiate the country's atmosphere because the opposition party cannot defeat the BJP under Prime Minister Narendra Modi's leadership.
"The Congress party is running such campaigns and it was clearly visible in the last election and the previous elections where they went to Pakistan seeking their help to change the government in India," she charged while replying to questions on allegations of discrimination against minorities.
She said whenever there is an issue, it is addressed at the state level as law and order is a state subject.
"I find this deliberate attempt to vitiate the atmosphere in the country because they think they cannot win against the development policies of prime minister Modi," she alleged, adding "They (Congress) have deployed their tool kits which operate abroad."
"Going abroad, our Opposition do not talk in India's interest because they cannot defeat Prime Minister Modi."
"They bring up these people who go to these debates without ground-level details," she charged.
Sitharaman said Prime Minister Modi has received the highest civilian awards from 13 countries and six of them have the highest Muslim population.
"These (targeting of Modi government over minority issues) are organised campaigns . Otherwise, why would countries accord such an honour to PM Modi and why would there be a distortion in understanding about how the minority population is part of the Indian mainstream," she said.
During his US visit, Prime Minister Modi said at a press conference how his government works on 'Sabka Saath, Sabka Vikas' principle and doesn't discriminate against any community "whatsoever", the Union minister added.