Rajasthan govt should appeal acquittals in 2008 Jaipur blasts case: Pilot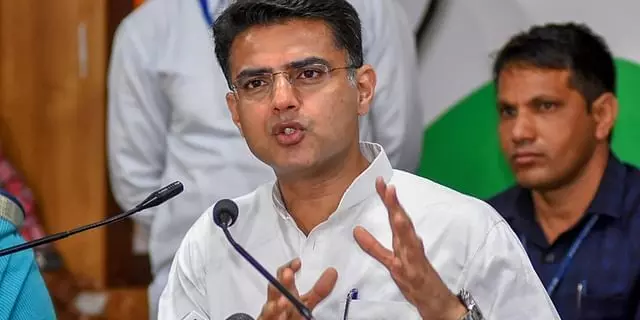 Jaipur: Senior Congress leader Sachin Pilot Thursday said the acquittal of the four men who were given capital punishment by a lower court for the 2008 Jaipur serial blasts was a serious issue and the Rajasthan government should appeal against it.

The former deputy chief minister also said a probe should be conducted against those who were responsible for investigating the case. He said the lapses that took place in the investigation is a serious issue.
The state government should immediately appeal against the high court ruling so that affected people can get justice, he said.
The Rajasthan High Court on Wednesday acquitted the four men in the case and affirmed the acquittal of a fifth accused by the trial court, while slamming the probe agencies over their "shoddy investigation".
On Congress leader Rahul Gandhi's conviction in a criminal defamation case and subsequent disqualification from Lok Sabha, Pilot claimed that the central government was working with political vendetta and wanted to suppress his voice.
He said the entire episode that happened after Gandhi was sentenced by a court in Surat poses a big question for democracy of the country.
"I see political agenda behind acting so swiftly. The (court's) verdict, disqualification from Lok Sabha and the notice to get the (government) bungalow (allotted to him) vacated... appears to be motivated with the spirit of political vendetta," he said.
Pilot further said an attempt has been made to make an example of Gandhi and send out a message that voices raised against the central government will be suppressed.
Rahul Gandhi had been raising the Adani issue in Parliament and members of the ruling party were not letting the House function as they do not want any discussion or a Joint Parliamentary Committee to be formed.
On the protest by private doctors against the Right to Health Bill in the state, the Congress leader said neither side should be obstinate.
"I think the intention of the government may be right that we should fulfil the issue of universal health. But in the present situation, I feel that after listening to the striking medical personnel, the government should also find a way so that the general public is not affected," he said.
Earlier, a delegation of private doctors met Pilot at his residence.