Pune Congress unit holds 'silent' protest against I-T survey at BBC offices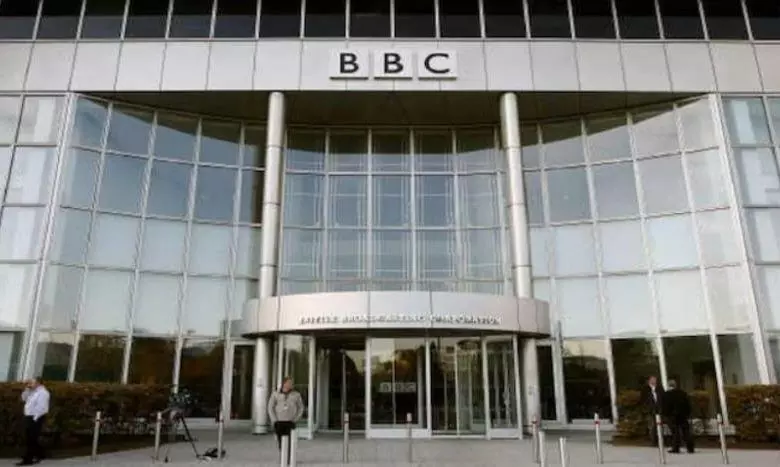 The Congress's Pune city unit staged a 'silent' protest on Wednesday against the Income Tax department's survey operations at the BBC's offices in Delhi and Mumbai, and claimed media houses and journalists were under pressure since the Narendra Modi government came to power in 2014.
The action, which sparked a sharp political debate with the ruling BJP accusing the British Broadcasting Corporation (BBC) of "venomous reporting" and the opposition questioning the timing of the move, comes weeks after the broadcaster aired a two-part documentary "India: The Modi Question" on Prime Minister Narendra Modi and the 2002 Gujarat riots.
The Congress workers led by Pune unit president Arvind Shinde covered their mouths with black bands during the protest held outside the Patrakar Bhavan here in Maharashtra.
Shinde said the Congress condemns the I-T department's action and blamed the central government for it.
"We feel that just two weeks back, the BBC had come out a documentary on Gujarat riots and it (I-T department action) is connected to that," he said.
Shinde claimed that since the Modi government came to power in 2014, media houses and journalists have been under pressure and they should day, show and preach whatever the central government wants.
Journalists or media houses that do not obey are targeted by the Centre through the Enforcement Directorate and the Income Tax department, he claimed.
The Income Tax department had launched the action on Tuesday at the BBC's Delhi and Mumbai offices along with at least two linked premises as part of an investigation into alleged tax evasion against the British broadcaster in India.
The tax department's survey operation against the BBC India continued for the second day on Wednesday with the sleuths understood to be making copies of electronic and paper-based financial data of the organisation, officials said.
The survey is being carried out to investigate issues related to international taxation and transfer pricing of BBC subsidiary companies, officials had said on Tuesday.
While there has been no official statement from the I-T department on the action, the BBC has said it was cooperating with the authorities.