Non-BJP parties should unite to defeat Centre's ordinance in RS: Kejriwal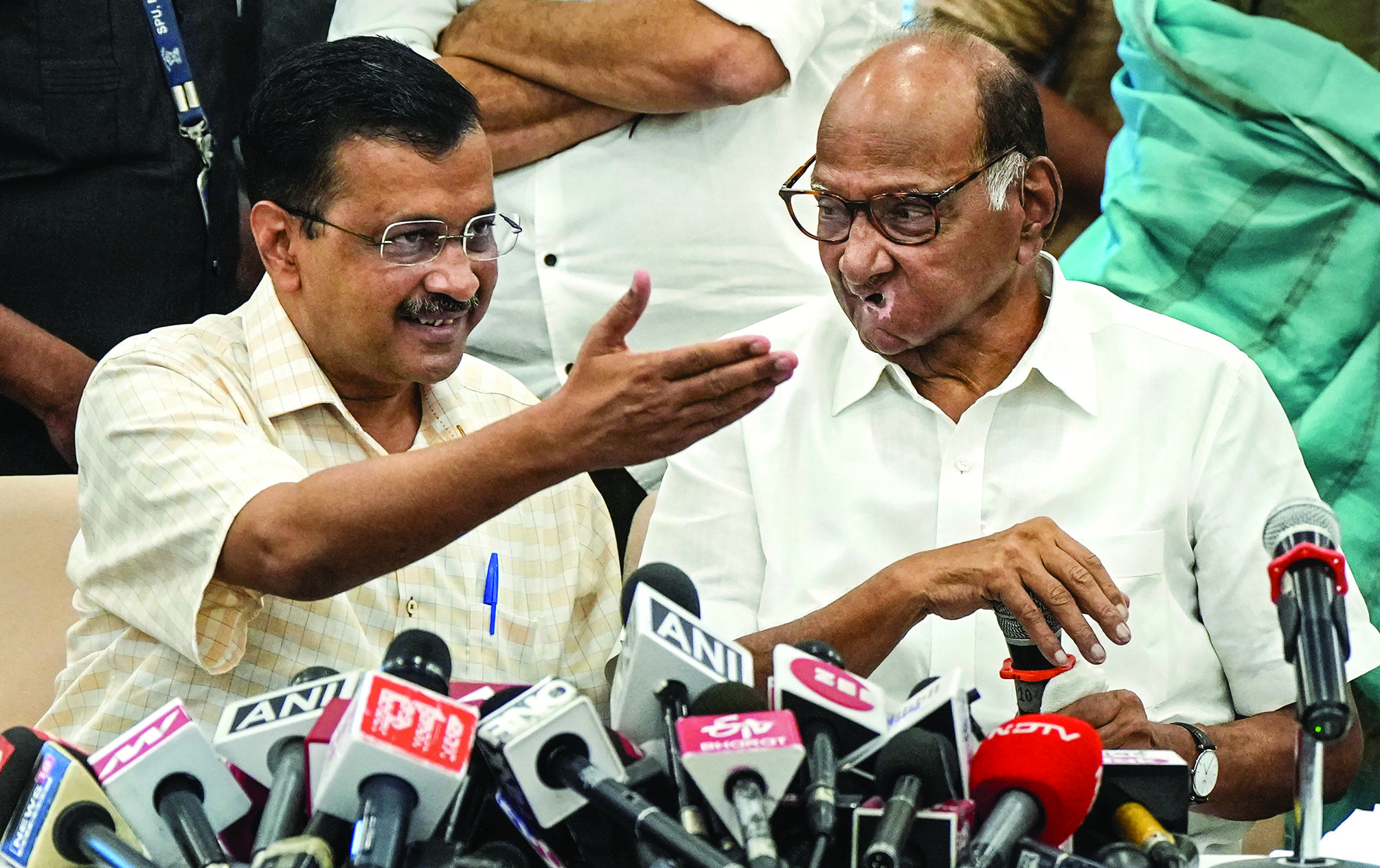 Mumbai: Delhi Chief Minister Arvind Kejriwal on Thursday urged the non-BJP parties to unite and defeat in the Rajya Sabha the Bill related to the Centre's ordinance on control of services in the national capital.

The Aam Aadmi Party (AAP) national convenor was addressing a press conference after meeting Nationalist Congress Party (NCP) chief Sharad Pawar, who assured to support the former in his party's fight against the ordinance.
Earlier, West Bengal Chief Minister Mamata Banerjee and Shiv Sena (UBT) chief Uddhav Thackeray have assured their support to Kejriwal in this matter.
The Delhi CM said he will seek time on Friday for a meeting with Congress president Mallikarjun Kharge and party leader Rahul Gandhi to discuss the issue.
"If all non-BJP parties unite, the Bill can be defeated in the Rajya Sabha as no party enjoys majority in the Upper House of Parliament," he said.
"The ordinance has affected the federal structure of the country. Elected governments not being allowed to work by using ordinances is not good for the country," Kejriwal added.
Pawar, who was present at the press conference, said the right of elected governments to govern needs to be protected and said all non-BJP parties should support the AAP in this matter.
"Kejriwal should also meet all non-BJP parties to convince them. It is our responsibility to persuade everyone - be it Congress or Biju Janata Dal (BJD)," he suggested.
Describing national interest as a matter of priority, the former Union minister called for the need to have a dialogue between all non-BJP parties to provide a stable and progressive government when the time comes.
Parliamentary democracy needs to be saved, Pawar said, adding that the NCP will support the AAP in this matter.
Calling Pawar one of the tallest leaders in the country, Kejriwal thanked him for backing the AAP in its fight against the ordinance.
Kejriwal slammed the Bharatiya Janata Party (BJP), and alleged that if people vote for a non-BJP government, then the party resorts to three methods (in order to topple that government) - purchase MLAs from the ruling side, show fear of Enforcement Directorate (ED) and Central Bureau of Investigation (CBI) or promulgate an ordinance to ensure the elected government is unable to function.
"Defeating the Centre's ordinance is not a matter of politics but that of the country and all parties who love the country should come together," the AAP leader said.
Pawar said, "I have been a parliamentarian for 56 years. This is not a matter of Delhi or AAP but of saving parliamentary democracy."
"When a Parliament building already exists in the country, whether there is any need for a new one is a matter of debate. When we get an opportunity, we will speak in Parliament," Pawar said on a query regarding the opposition parties deciding to skip the inauguration of the new Parliament complex on May 28 at the hands of Prime Minister Narendra Modi.
Replying to a question on the PM candidate, the former Union minister said instead of projecting anyone as a PM candidate, it was important to have a dialogue between non-BJP parties to provide a stable and progressive government.
"But we haven't spoken yet either with Congress or with Arvind Kejriwal. When time comes, we will talk. National interest is a priority for us," he said.
On seat-sharing among the Maha Vikas Aghadi (MVA) allies in Maharashtra for the upcoming elections, Pawar said it has been decided that all three partners will depute their respective leaders for talks.
"The process has not started yet, but we will find a solution," he said.
Kejriwal, who has been on a visit to Mumbai, was accompanied by Punjab Chief Minister Bhagwant Mann during his meeting with Pawar at Y B Chavan Centre in south Mumbai.