Nepal ready to supply tomatoes to India; seeks easier access to market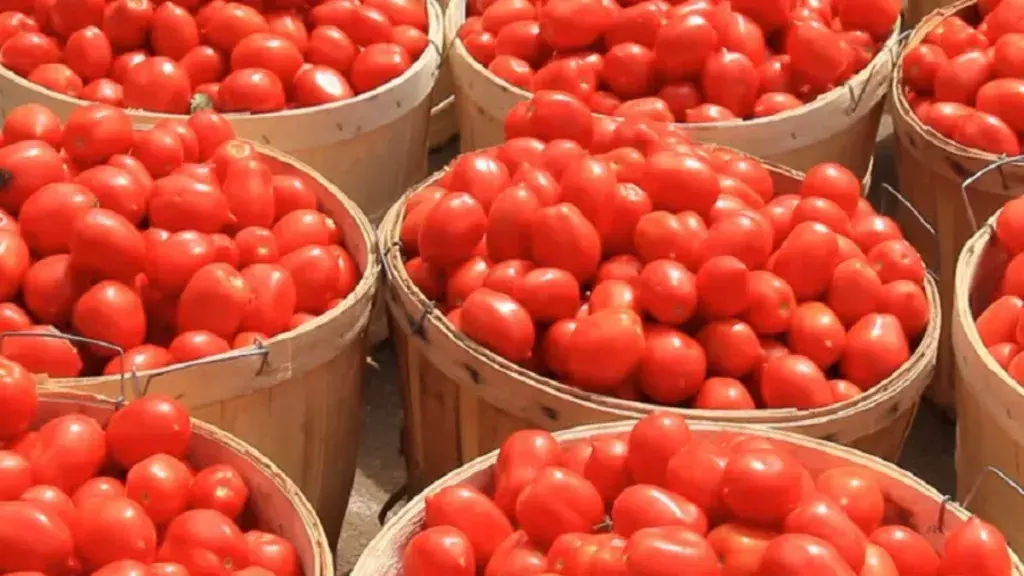 Nepal is ready to export tomatoes to India in bulk on a long-term basis to quell the skyrocketing prices but has sought easy access to the market and other necessary facilities.
The neighbouring country's assurance came after Finance Minister Nirmala Sitharaman told Parliament on Thursday that India has started importing tomatoes from Nepal amid a record-high spike in prices in the country.
India is importing tomatoes for the first time due to high retail prices of around Rs 242 per kg amid supply disruptions caused by heavy rains.
Nepal is desirous to export vegetables, such as tomatoes, on a long-term basis to India, but for that India has to provide easy access to its market and other necessary facilities, Agriculture Ministry spokesperson Shabnam Shivakoti said on Friday.
Though Nepal has already started exporting tomatoes to India through official channels a week ago, it is not in big quantities, she said.
Arrangements are yet to be made for large-scale export of tomatoes, she added.
Echoing her voice, Binaya Shrestha, Deputy Director at Kalimati Fruits and Vegetable Market Development Board, said, If we are provided with easy access to the Indian market, Nepal can export huge quantities of tomatoes to India.
India is a good market for Nepalese tomatoes," he pointed out.
Tomatoes are grown in abundant quantities in the three districts of Kathmandu Valley -- Kathmandu, Lalitpur and Bhaktapur -- and it is more than sufficient to meet the local demand, he said.
Some of the tomatoes grown in Kathmandu are being exported to the Indian market through unofficial channels, Shrestha admitted.
Some one-and-a-half months ago, farmers threw around 60,000 to 70,000 kg of tomatoes on the roads near Kalimati Fruits and Vegetable Market in Kathmandu after they failed to get a market for their products. At that time the farmers could not get even Rs 10 per kg of tomato in the wholesale market.
However, one month ago, the market price of tomatoes increased by four times, after traders started exporting tomatoes to India through illegal channels causing shortages in the local market, market analysts said.
The tomato which was sold in the retail market for Rs 40-50 per kg soared to Rs 200 to 250 per kg, as farmers started selling tomatoes to the Indian market through unofficial channels, according to Badri Shrestha, one of the major growers and suppliers of tomatoes in Kathmandu.
"We can fetch up to NRs 150 per kg after our products are exported to India through unofficial channels. Last month, 70,000 kg to 90,000 kg tomatoes were exported to India through unofficial channels on a daily basis," said Badri, who grows 2,000 to 3,000 kg of tomatoes every alternate day from his farm located in Lalitpur district near Kathmandu during the vegetable season.
He claimed to have exported around 40,000 kg of tomatoes grown on his farm over the past one-month period to India through unofficial channels.
During his recent visit to India in July, Agriculture Minister Beduram Bhushal held discussions on facilitating Nepalese agricultural products, including tomatoes, to India with his Indian counterpart Narendra Singh Tomar.
Nepal has also asked Indian authorities to arrange quarantine and other facilities to export tomatoes, peas and green peppers, agriculture ministry spokesperson Shivakoti said.
Prior to importing vegetables to India, the Nepal government's Plant Quarantine and Pesticide Control Office (PQPCO) has to issue certificates to the exporters.
Over the past week, Nepal exported tomatoes through its two border checkpoints, including one situated in Birtamode, agriculture ministry deputy spokesperson Tapendra Prasad Bohara said.
The Government of India has already included some vegetable items, including tomato, produced in Nepal in its quarantine list so as to facilitate its export to India, he said.
Meanwhile, about 10 tonnes of tomatoes imported from Nepal are in transit and the commodity will be distributed in Uttar Pradesh during the weekend at a subsidised rate of Rs 70 per kg, National Cooperative Consumers' Federation of India Limited (NCCF) Managing Director Anice Joseph Chandra said on Friday.
Since July 11, the NCCF has been selling tomatoes at a discounted rate on behalf of the central government to boost domestic availability and contain prices. So far, NCCF has sold 9,38,862 kg of tomatoes in Delhi-NCR, Rajasthan and Uttar Pradesh.