Man held for flight attendant's murder found hanging in Mumbai police's custody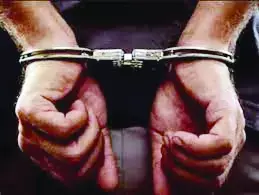 A 40-year-old man, who was arrested for allegedly killing flight attendant Rupal Ogrey, was found hanging in the Mumbai police's custody in the early hours of Friday, an official said.
The accused, Vikram Athwal, was found hanging using a pair of pants as a noose inside the toilet of Andheri police station, he said.
It is a suspected case of suicide, the police official added.
Rupal Ogrey, 24, was found dead with her throat slit late Sunday night in a rented flat in Marol area of suburban Andheri. She hailed from Chhattisgarh and came to Mumbai in April this year for training with a leading private airline.
Vikram Athwal, who was doing housekeeping work over the last one year in the residential society where the victim lived, was arrested on Monday on the charge of killing her. A local court had remanded him in police custody till September 8.
During the probe, the police recovered a knife allegedly used by him to kill Ogrey along with the clothes he was wearing at the time of the crime.
According to police, Athwal was married and had two daughters.
Athwal and Ogrey used to argue over petty issues, the police said, adding that as per their preliminary investigation, Athwal entered Ogrey's flat under the pretext of picking up a garbage bag and cleaning the commode and then killed her.