Indo-Bangla border along Dhubri hot zone of crime': Assam Chief Minister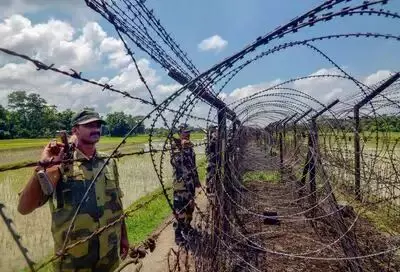 Guwahati: The Indo-Bangladesh border along Assam's Dhubri district is a hot zone of crime', including cattle smuggling, and the BSF has to maintain strict vigil in the area to control such activities, Chief Minister Himanta Biswa Sarma said in the Assembly on Monday.

While local people may at times face difficulties' due to high security in the border area, the state government can address those issues only after due consultation with the BSF, he added.
Replying to a question by AIUDF legislator Nazrul Hoque, Sarma said, "The India-Bangladesh border is a sensitive area due to various reasons. Cattle smuggling, illegal trade of other items, etc are attempted frequently and hence, the BSF has to take a lot of precautionary steps."
Hoque said that the markets in Dhubri district located two kilometres away from the international border are closed by the BSF personnel daily at 5 pm and the MLA wanted to know if there were any such instructions.
Sarma, who also holds the Home portfolio, said prohibitory orders under CrPC section 144 are in force within 500 metres of the Indo-Bangla border from 6 pm to 5 am daily.
"The BSF has to be strict in the area. It is a hot zone of crime. I am not aware of the BSF's views on the matters raised by you. But I will ask the deputy commissioner to hold discussions with all stakeholders, including the BSF, and see what steps can be taken to minimise the issues," he said.
In 2021, Sarma said, 1181 cases were registered in the border district, 612 vehicles seized, 1326 people arrested, 13,000 cattle heads seized and 617 cattle-related cases were filed.