Asian Games: Sable, Toor headline India's track & field show as medal tally crosses 50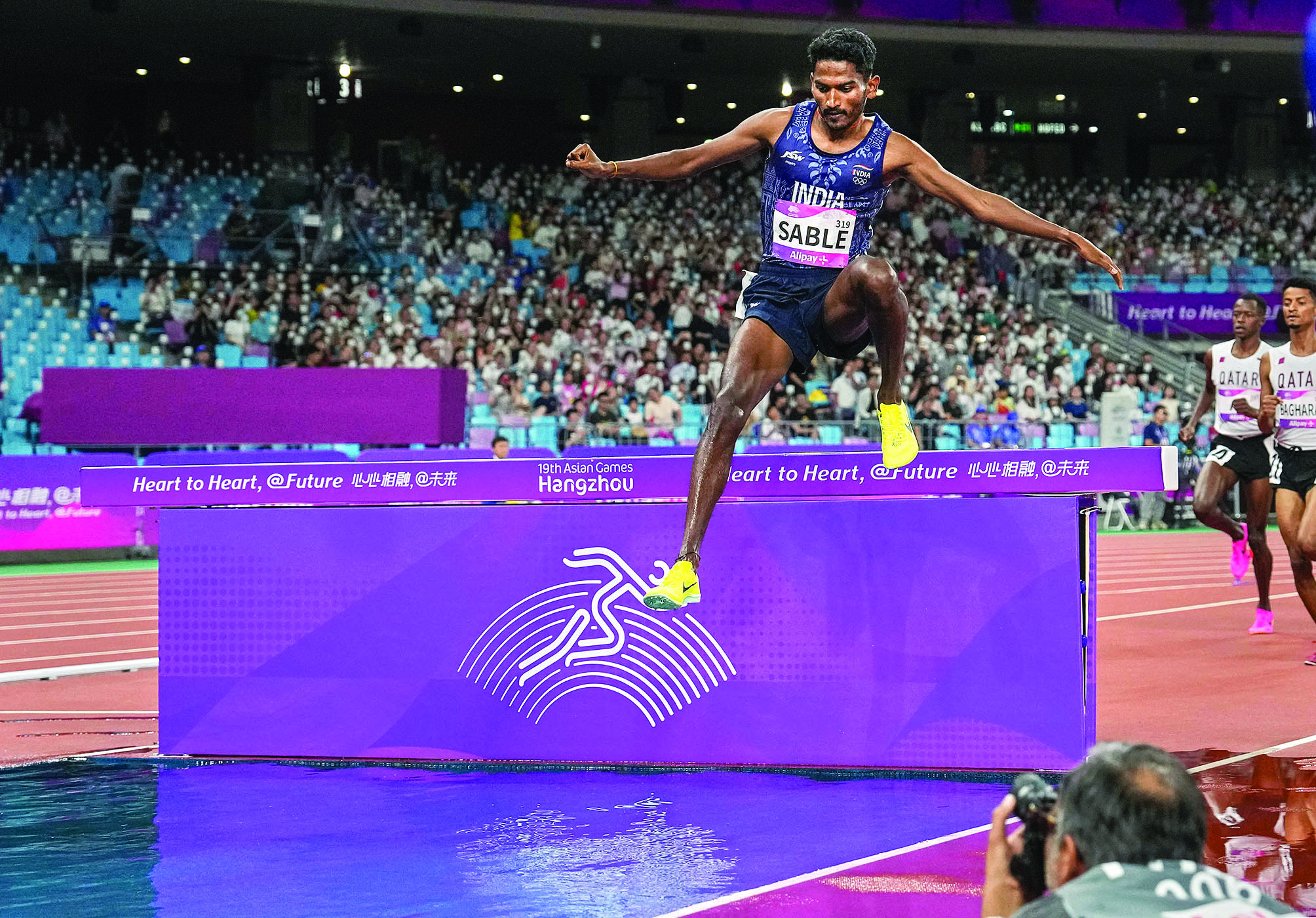 Hangzhou: Avinash Sable became the first Indian man to win 3000m steeplechase gold at Asian Games while shot-putter Tajinderpal Singh Toor pulled off a big final round throw to defend his title on a medal-laden day which fetched nine podium finishes.
On a dramatic day on which athlete Jyothi Yarraji survived an attempt to illegally disqualify her and went on to win a silver medal in women's 100m hurdles, India claimed three gold, seven silver and four bronze medals to cross the 50 medal mark in overall tally in the 19th Asian Games in Hangzhou on Sunday.
Steeplechaser Avinash Sable and Tajinderpal Singh Toor and the men's trap team bagged the three gold medals while the country also claimed seven silver and three bronze medals to take their tally to 13 gold, 21 silver and 19 bronze medals for a grand total of 53 medals which placed it fourth behind China (243), South Korea (125) and Japan (112).
It was a day of many historic firsts, none bigger than the achievement of the men's badminton team, who despite playing without their top singles player HS Prannoy, nearly gave the mighty Chinese a scare on their home turf before losing 2-3 to grab their first ever silver medal and a medal in the Asian Games for the first time in 37 years, since the bronze in1986 at Seoul.
Singles player Lakshya Sen and the top doubles combine Satwiksairaj Rankireddy and Chirag Shetty played their hearts out but Kidambi Srikanth, the second men's doubles pair of MR Arjun and Dhruv Kapila and Mithun Manjunath, drafted in as a replacement for Prannoy and playing the biggest match of his career, lost the third singles as China won the
The men's and women's trap teams also made history on Singay — the men's team of Kynan Chenai, Zoravar Singh Sandhu and Prithviraj Tondaiman won the country's first gold medal in the Trap Team competition while the women's team of Rajeshwari Kumari. Manisha Keer andPreeti Rajak bagged their first medal — a silver medal.
Their efforts on the final day of shooting competitions on Sunday meant that India produced its best-ever margin in the Asian Games with
Golfer Aditi Ashok, who so famously finished fourth in the Olympic Games in Tokyo, failed to take advantage of a seven-shot overnight lead in the final round on Sunday and eventually finished second in the women's Golf Individual, India's first individual medal in Asian Games.
While the men's trap team started the gold rush for India, it was Avinash Sable and Tajinderpal Singh Toor gave it the finishing touches with the shot putter claiming his second successive gold in the Asian Games.
Sable started the medal rush in athletics for India by winning the 3000m steeplechase gold in an Asian Games Record time of 8:19.50 in the Men's 3000m steeplechase, becoming the first Indian ever to win a gold medal in this discipline in the Asian Games. Sable won by a big margin even though he came nowhere close to his personal best of 8:11.20, but the 29-year-old was happy to win his first gold medal in a major event, leading from start to finish.
Tajinder pal Singh Toor bagged the second gold of the day when he clinched the gold medal with his final throw of the competition hurling the iron ball to 20.36 metres.
Toor, who fouled his first two attempts sprung into action with 19.51 in his third attempt and in his next turn, he crossed the 20-metre mark. However, Saudi Arabia's Mohamed Daouda A Tolo took the lead by this time by throwing to a distance of 20.18.
Toor, who holds the Asian Games (20.75m) and Asian Record, fouled his fifth attempt but then came with his best effort of the day when it mattered most, hurling the iron ball to 20.36 metres to claim the gold medal.
There were some setbacks too as Commonwealth Games medalist Jeswin Aldrin could manage a best of 7.78 and finished eighth among 10 participants in the men's long jump while Sapna Burman missed out on a medal in the women's Heptathlon by just four points, finishing with 5708 points to Nandini.
Two-time World Champion Nikhat Zareen ended her campaign with a bronze medal as she lost in the quarterfinals.