Abjuring hate speech is fundamental requisite for maintenance of communal harmony: Supreme Court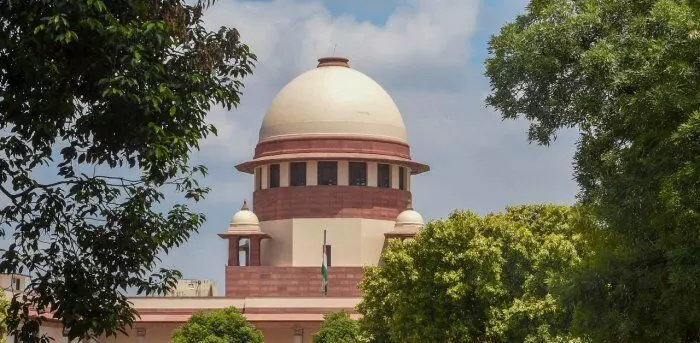 New Delhi: The Supreme Court on Tuesday said abjuring hate speech is a fundamental requisite for maintenance of communal harmony in the country, and asked the Centre what actions have been taken after the lodging of FIRs in hate speech cases.

Observing that merely registering complaints is not going to solve the problem of hate speeches, it reminded the Centre on the need to take action against persons making such statements.
The court made the observations after it was informed by Solicitor General Tushar Mehta that 18 FIRs have been lodged in relation to hate speeches.
The top court said it had passed an order directing "suo motu" action against culprits on a certain understanding about what was happening in this country and expects the authorities to take prompt action.
A bench of Justices KM Joseph and BV Nagarathna also heard the claim by advocate Nizam Pasha that 50 rallies have been conducted in Maharashtra in the last four months where hate speeches have been made. Pasha said he has annexed news reports regarding this and sought action.
Mehta strongly objected to Pasha's submission and asked how a newspaper report could be made the basis of an application. He said the matter can be heard on any other date as it was already past 4 pm.
The court told Mehta that on the last occasion he had conceded that this matter would be at the heart of democracy.
"Abjuring hate speech is a fundamental requisite for maintenance of communal harmony...We passed an order on certain understanding of what was happening in this country. Don't think that we don't understand what is happening just because we keep silent. We should not be misunderstood," it observed.
During the hearing, Mehta, asked, "Are we converting this court into a magisterial court?"
"How can a newspaper report be made the basis? What if a hate speech is made somewhere, this man from Kerala (Pasha) is fully aware about Maharashtra. There is complete peace in the rest of the country and there is no hate speech elsewhere.
"His public interest is confined to only one state. They have started filing applications on the basis of newspaper reports. We have filed FIRs whenever we have found hate speech," Mehta said.
"Would your lordships have it on some date as it is already 4.30 pm. Is it that urgent? It doesn't look good."
The court, however, proceeded to hear the matter.
Pasha then told the bench that he has filed an application in the contempt petition. He said a transcript of the 16 rallies has been attached.
Mehta submitted that the petitioner be directed to place before the court hate speeches across religions.
"If we are really serious about this issue then please direct the petitioner, who is a public spirited person, to collect all hate speeches across religions and place it before the court for similar action. He cannot be selective. This court needs to ascertain the genuineness," Mehta said.
The court then posted the matter for hearing on Wednesday notwithstanding the objections by Mehta and Additional Solicitor General KM Nataraj.
Holding that the Constitution envisages India as a secular nation, the top court on October 21 last had directed the Delhi, Uttar Pradesh and Uttarakhand governments to come down hard on cases of hate speech, and registering criminal cases against culprits without waiting for a complaint to be filed.