West Midnapore's Jaba Hembram to perform on Nazrul Jayanti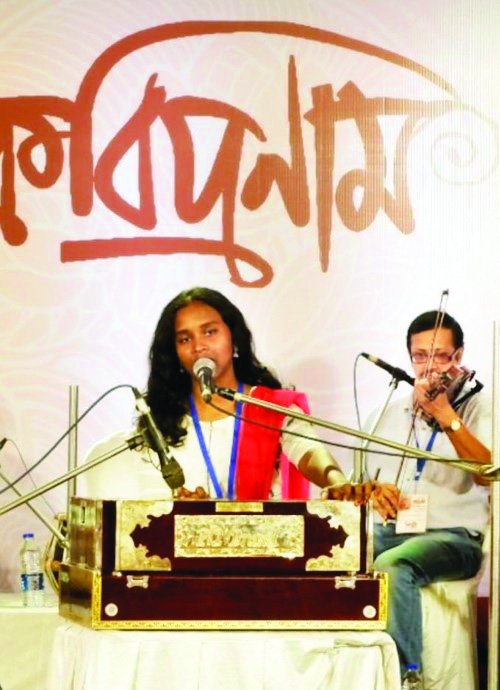 Kolkata: On the occasion of Nazrul Jayanti, talented singer Jaba Hembram from Dantan, West Midnapore, will grace the stage at the Ektara Mancha on the premises of Rabindra Sadan on Saturday.

Twenty-three-year-old Hembram is a tribal folk singer well-versed in Rabindra Sangeet, who will mesmerise the audience with her performance of Nazrul Geeti.
Recently, during the grand celebration of Rabindranath Tagore's birth anniversary organised by the state government, Hembram captivated the audience with her soulful rendition of a few of Tagore's popular songs.
She had the honour of performing at two different venues in Kolkata on the occasion of Rabindra Jayanti.
Hembram's passion for music has been evident since her childhood, and she began her formal training in music while she was in grade V. Throughout her school and college years, she consistently impressed the audience with her powerful singing abilities. Having completed her education at Belda College in West Midnapore, the singer now aspires to further pursue her dreams in Kolkata.
"I want to receive advanced training in singing in Kolkata," expressed Hembram. While she is currently searching for job opportunities, her ultimate dream is to undergo professional singing training in the City of Joy.
Expressing her gratitude towards Chief Minister Mamata Banerjee and the Information & Cultural Affairs Department of West Bengal, Hembram said: "I have never had the opportunity to perform in Kolkata before. However, the Information & Cultural Affairs Department reached out to me and provided me with this platform to showcase my talent. I am sincerely grateful to them for this wonderful opportunity."