'This time, people will stand in queues to change PM, not currency notes'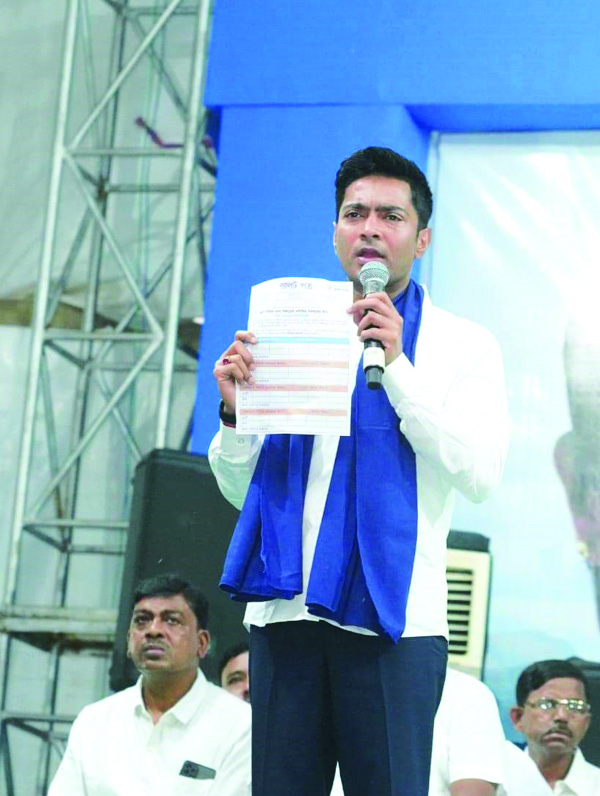 Kolkata: Trinamool Congress national general secretary Abhishek Banerjee on Thursday attacked the BJP-led Centre for insulting the President of India by not inviting her to the inaugural ceremony of the new Parliament building. He was addressing a rally in Purulia organised to hold the "Trinamool-e-naba-jowar" campaign.

"The new Parliament building is being inaugurated but President of India Droupadi Murmu who belongs to the ST community was not invited. Who is bigger — the President or the Prime Minister? Who should inaugurate the new building? The President of India's name is not on the invitation card. Same was the case with former President Ram Nath Kovind, who is a representative of the Dalit community. Even he wasn't invited to the foundation stone laying ceremony of the new Parliament. They cannot do as they please," Abhishek said.
Condemning the lack of accountability from the BJP-led Central government over a series of issues, including demonetisation, Abhishek said the next time people stand in long queues, it will be to change the Prime Minister and not currency notes.
Referring to the 2016 demonetisation crisis as "Tughlaqi" diktat, Abhishek said: "All of a sudden, currency notes of Rs 500 and Rs 1,000 denomination were declared as illegal tender. It was due to this Tughlaqi decision that 140 people lost their lives waiting in queues at ATM centres. Who is responsible?"
He also added: "Now, they have announced that Rs 2,000 currency notes will be withdrawn. People keep dying while standing in queues whereas you keep travelling to Australia, America, and London and have fun. This is the 'Achche Din' that people were promised. This time, if people stand in queues, they will ensure it is to change the Prime Minister and not currency notes."
Sounding the poll bugle for the 2024 general elections, Abhishek said the election will be a fight of button vs button. "PM Narendra Modi thinks he can do as he pleases and is under the impression that he can stop people's funds at the push of a button. If he has the remote control that controls the release of funds, in the coming days, people will use the EVM button to remove him from power."
Abhishek has been conducting a Jono Sanjog Yatra across Bengal and has been on the road since April 25. In the past month, he has conducted over 100 public activities across 12 districts of the state and created opportunities for over 35,000 booth presidents to participate in a referendum process to select candidates for the upcoming Panchayat elections.