Pet elephants honoured in Gorumara National Park's Vishwakarma Puja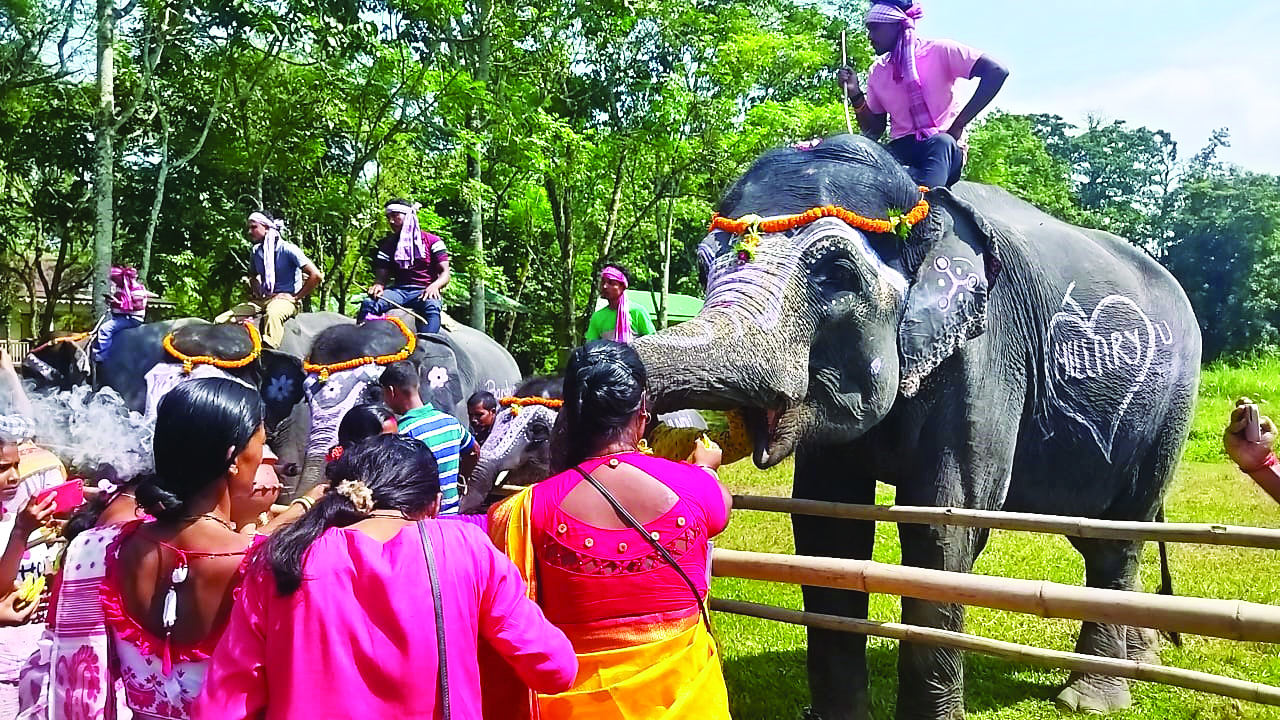 Jalpaiguri: As the elephant is Lord Vishwakarma's mount, on the day of Vishwakarma Puja, the pet elephants of the state Forest department were revered in their enclosure at the Gorumara National Park in Jalpaiguri.

This longstanding tradition of worshiping the elephants alongside Lord Vishwakarma has been observed for over two decades at Dhupjhora Pilkhana (Elephant rest shade) at Gorumara National Park. Six Kunki elephants, including Motirani, Champa, Barshan, Yuvraj, and Jenny, were honored in a grand ceremony.
Tourists, in large numbers, gathered to witness the Puja.
On this day, the Mahuts and Patawalas of Dhupjhora, Gorumara, and Medlar provide special care to the jumbos. In the morning, the Kunki elephants are given a bath in Murti River after which they are decorated using colourful chalk.
Each elephant's name is written on it to help tourists identify them. Finally, they are brought to the place of worship, where local women play conch shells and a Purohit conducts the puja. Sunil Barui, Dhupjhora beat officer, said: "As elephants are the mount of Lord Vishwakarma, they are worshipped every year. On this day, elephants are served special meals, including rice, pulses, bananas, various fruits, and sugarcane."
The Elephant Puja has become a tourist attraction, evident from the presence of tourists like Sudhir Kumar Bose from Kolkata, who came specifically to witness this unique event. Dilip De Sarkar, another tourist from Siliguri, shared: "Elephant worship is a cherished part of wildlife culture, symbolising the connection between wildlife and humans."