Model UN: 15-year-old from Bengal bags 'Best Diplomat' award in Dubai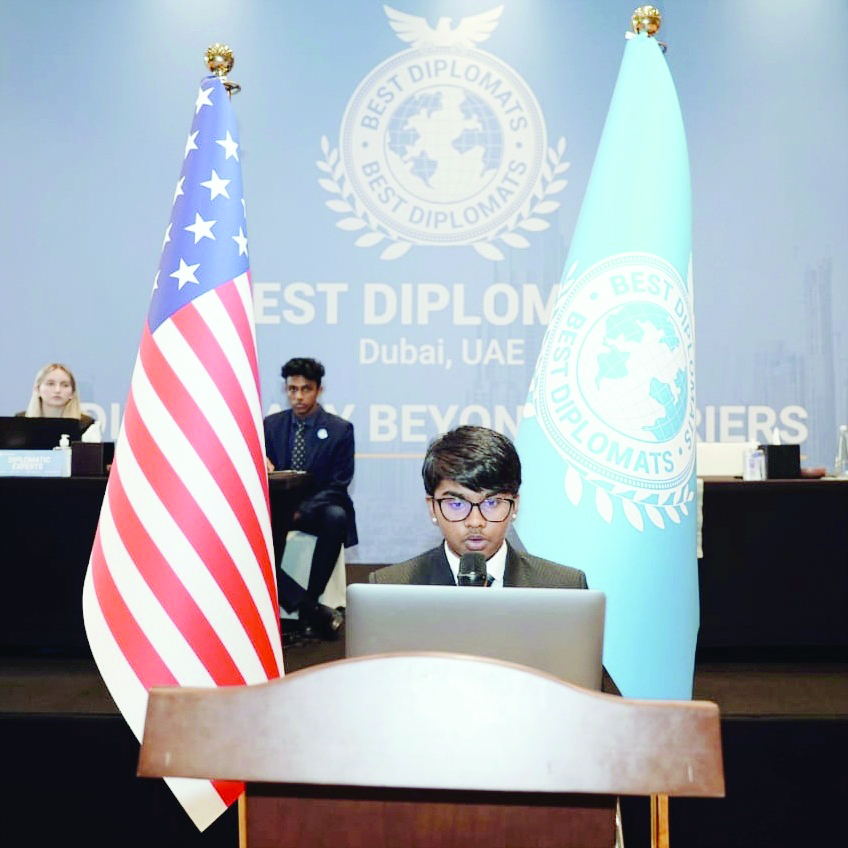 kolkata: A 15-year-old girl from Bengal has made the country proud by bagging the 'Best Diplomat' award at the three-day Model United Nations simulation hosted by 'Best Diplomats' in Dubai, UAE last month. K.Adhyaa's achievement deserves special mention as she was the youngest delegate in the event.

A class XI student of Modern High School for Girls, Kolkata, Adhyaa is the daughter of IFS officer S. Kulandaivel, who is presently serving as Chief Conservator of Forest, West Bengal.
The event was attended by 162 delegates from over 60 countries ranging from countries like India, Bangladesh, Pakistan, South Africa, Ghana, Tunisia, Azerbaijan and Mexico to name a few. It rolled out an agenda to discuss the trending topic of 'Impact of Artificial Intelligence on the industries' with subtopics like labour concerns, IP in AI-driven industries and data privacy and security coming to the forefront.Adhyaa was the delegate of Afghanistan, a country staggering in terms of its economy yet has potential to bring about a remarkable change in the field of technology in the upcoming years.
Her speech had a futuristic outlook and focused on bridging of the digital divide, re-skilling to combat the negative effects of AI on employment, keeping in mind the 3Es- Environmental safety, efficiency and economy.The majoritarian coalition was led by her and two delegates from Tunisia and Pakistan. Their resolution, 'Resolution Thunder' was unique and suggested measures that primarily focused on the upliftment of developing and underdeveloped countries, bringing them to the same pedestal as developed nations in the varying fields like healthcare, transportation, education, environment and data security by using AI as a tool through trans-national transfer of knowledge and technology. It also talked about the paramount importance of investment, re-skilling of people through vocational training facilities, technological assistance to the elderly and international cooperation through establishment of guidelines to promote transparency, accountability and monitoring the use of technology for military purposes for the maintenance of international peace.
She presented her views in an uncompromised manner, deployed diplomacy with sprinkle humanity and placed solutions in a resolute manner which helped her gain recognition and widespread support.