Ganguly urges bizmen to invest in Bengal, says CM an SMS away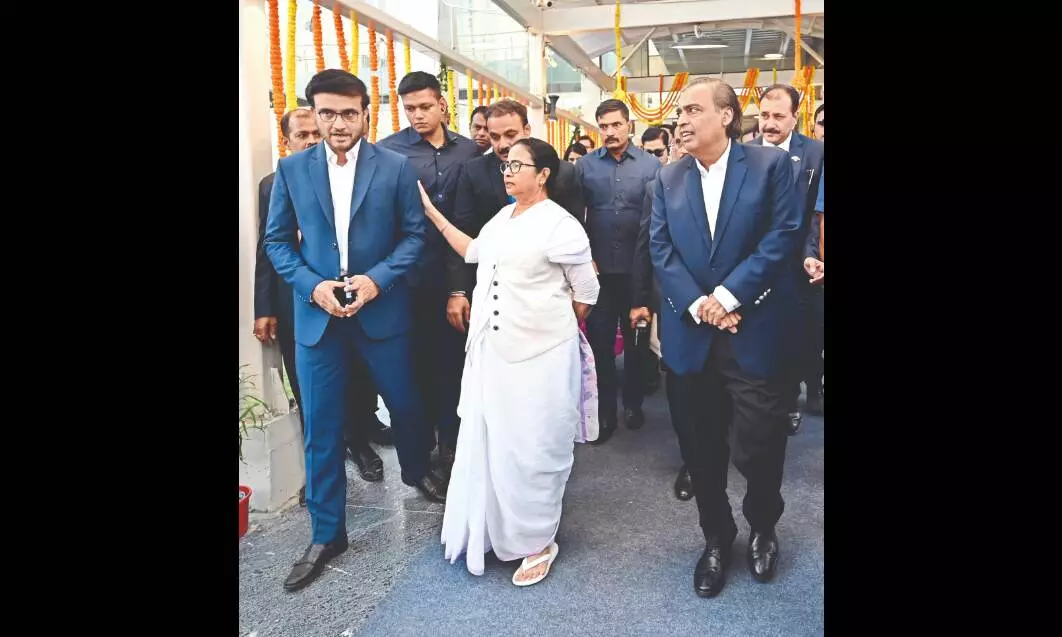 Kolkata: Addressing the gathering at the 7th edition of the Bengal Global Business Summit (BGBS), Sourav Ganguly invited the industry captains to invest in Bengal and said that Chief Minister Mamata Banerjee was 'just an SMS away'.
The former Team India cricket captain thanked the industrialists on the dais for taking Indian sports to the next level. He said he comes from a sports background and joined it at the young age of 13. He recalled that he had seen it grow over the years.
He thanked Mukesh Ambani of the Reliance Group, among other business tycoons, for taking Indian sports to an unimaginable height. He said although in Bengal there may not be a huge investment in sports but "we do it in our way in a small manner'.
Referring to the Chief Minister, he told the industrialists that he received great support from her. "You SMS her and you get an answer in a minute. There are rare occasions when there is a delayed reply. I am touched with all the care and affection that I receive from her," he said.
Recently, Sourav accompanied Mamata on her Spain tour where she was visiting to woo investors for the state. There, the former cricketer announced that he would be setting up another steel plant in Salboni in West
Midnapore district.
He said that many are not aware that he began his journey in this sector in 2009 with a small-scale steel plant. He shared that he did so in collaboration with a friend. His first steel plant is located in Durgapur and the second plant in Patna. The Salboni plant will be the third and is scheduled to come up soon.
Sourav disclosed that he was helped by Chief Minister Mamata Banerjee in this endeavour and hoped that his new plant would become functional by next year.
"Bengal has always welcomed the world for business purposes which is not just about exchange of commodities but also employment generation," he had remarked.
Addressing the delegates at BGBS the Chief Minister announced that Ganguly was appointed the brand ambassador of West Bengal.
She said: "Sourav Ganguly is a very popular figure and he can work for the young generation in an efficient manner. I want to involve him as a Bengal's brand ambassador."