Around 55 to 60 dengue cases diagnosed in South Dinajpur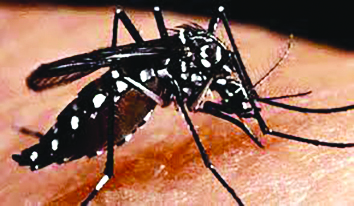 Around 55 to 60 dengue positive cases were diagnosed in South Dinajpur district over the last 24 hours, Chief Medical Officer of Health (CMOH) Sudip Das said while speaking to Millennium Post on Wednesday.
"Most of the dengue positive cases were detected from three blocks — Kumarganj, Hili and Balurghat. As many as 217 dengue positive cases have been detected so far in South Dinajpur since January. Out of 217 cases, 81 have been detected from Kumarganj, 74 from Hili and 62 from Balurghat," the CMOH stated.
According to him, the percentage of positive cases is however much less than the previous years.
"We are conducting around 200 cases everyday covering Balurghat District Hospital and Gangarampur Sub-Divisional Hospital. Fever clinics have been set up in hospitals and we are monitoring the situation intimately," he said.
He said that the positive cases are being monitored in every block.
"Health workers are going door-to-door and blood samples are being collected and tested. The blood samples are being collected even from remote areas of the district. If anyone is found suffering from high fever with dengue-like symptoms, they are being instructed to get admitted to the nearby hospital. We have sufficient medicines to combat any adverse situation. The situation is under control," Das said.
He said the residents must clean their home, surroundings and water must not be allowed to accumulate.
"We have identified some areas of Kumarganj, Hili and Balurghat blocks as dengue hotspots. Special attention has been given to these areas to prevent the outbreak of dengue. Maximum stress has been given on mass awareness campaigns in these areas. We have conducted several meetings with the health workers, representatives of the local Panchayats, Panchayat Samities and Zilla Parishad, civic body authorities and block officials of the district to take control over dengue and other vector-borne diseases," he added.