Ambani promises Rs 20K cr more investment in Bengal in next 3 years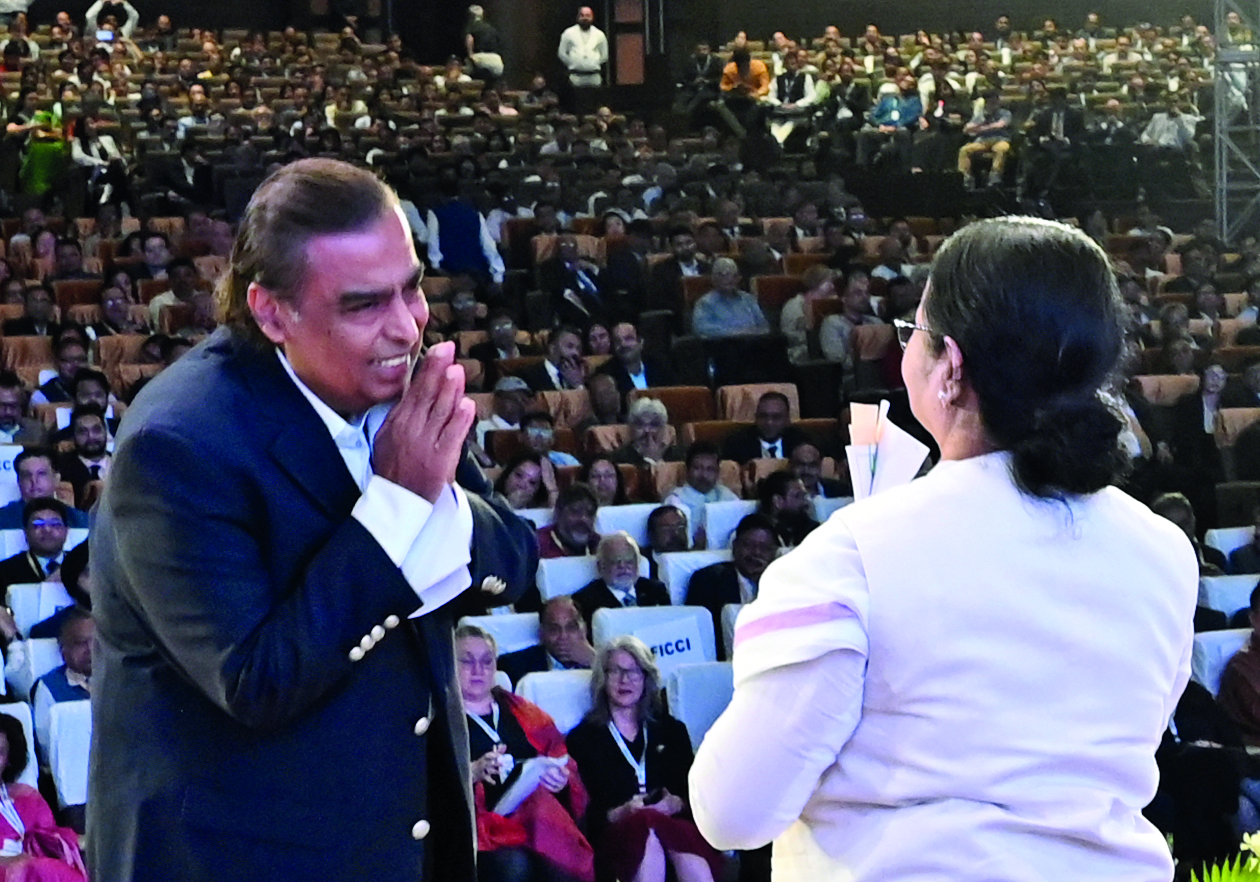 Kolkata: Reliance Industries Limited (RIL) chairman & MD, Mukesh Ambani on Tuesday lauded the "rapid progress" of Bengal under the leadership of Chief Minister Mamata Banerjee and announced an additional investment of Rs 20,000 crore in the next three years.

Speaking at the 7th edition of the Bengal Global Business Summit (BGBS), referring to the speed of progress in Bengal Ambani metaphorically remarked: "Countries like Singapore, Korea and Taiwan are regarded as Asian Tigers for their growth economies. But Bengal is now becoming so agile and ambitious that the fearless Royal Bengal Tiger will someday overtake all the Asian Tigers."
RIL has already invested close to Rs 45,000 crore in West Bengal in the last few years. Ambani also referred to the Reliance Foundation taking up the renovation and restoration work of the famous Kalighat Temple in Kolkata.
"Reliance Foundation is deeply committed to participating in the resurgence of West Bengal; a land of artistic and spiritual heritage which is truly priceless. I am pleased to inform you that Reliance Foundations have taken up an ambitious project to renovate and restore the famous Kalighat Temple in Kolkata. We are in the process of repairing the entire temple complex, including the century-old heritage structure and restoring them to their original glory. This project is as close to Nita (Ambani) and me as it is to yours (Mamata Banerjee). Thank you very much for this opportunity," Ambani said.
Reiterating that Reliance will leave no stone unturned to accelerate Bengal's growth, he said that Bengal has been one of the largest investment destinations for Reliance.
"Bengal is truly rising, and the rise augurs well for the whole of India. India is now racing ahead to become a $10 trillion economy by 2030. This will make India the third-largest economy of the world. Bengal alone has the potential to become a trillion-dollar economy in the near future," he added.
He lauded Mamata for the state's GDP growth rate rising to 11.5 per cent in the year 2022-23 which is higher than the national average.
"Your tax revenue has tripled and so have IT exports from the state. Capital expenditure on agriculture and allied sectors has risen nearly seven times. The number of medium and small industry clusters has gone up ten times. Bengal is poised to become the logistics hub of the East, which will attract new domestic and international investments," he said.
Ambani began his speech on Tuesday by praising Banerjee. Borrowing a word from the lexicon of a former Prime Minister of India, he said: "As Atal Bihari Vajpayee said you are truly a 'Agni Kanya' (fire maiden). Bengal has truly become 'Golden Bengal' under your leadership. That is why the people of Bengal keep trusting you again and again."
He further unveiled Reliance Retail's plan of expanding its footprint in the state. "Our network of nearly 1000 retail stores will expand to over 1200 within the next two years. Our retail business is supporting hundreds of MSMEs," he said, adding that Reliance Retail operates nearly 20 lakh square feet of warehouses in Bengal.