Transcending the big screen?
OTT platforms have indeed revolutionised the theatrical space through the Covid period, but owing to their innate ability to capture larger-than-life ideas and experiences, the big screen will retain its relevance and co-exist with the new entrant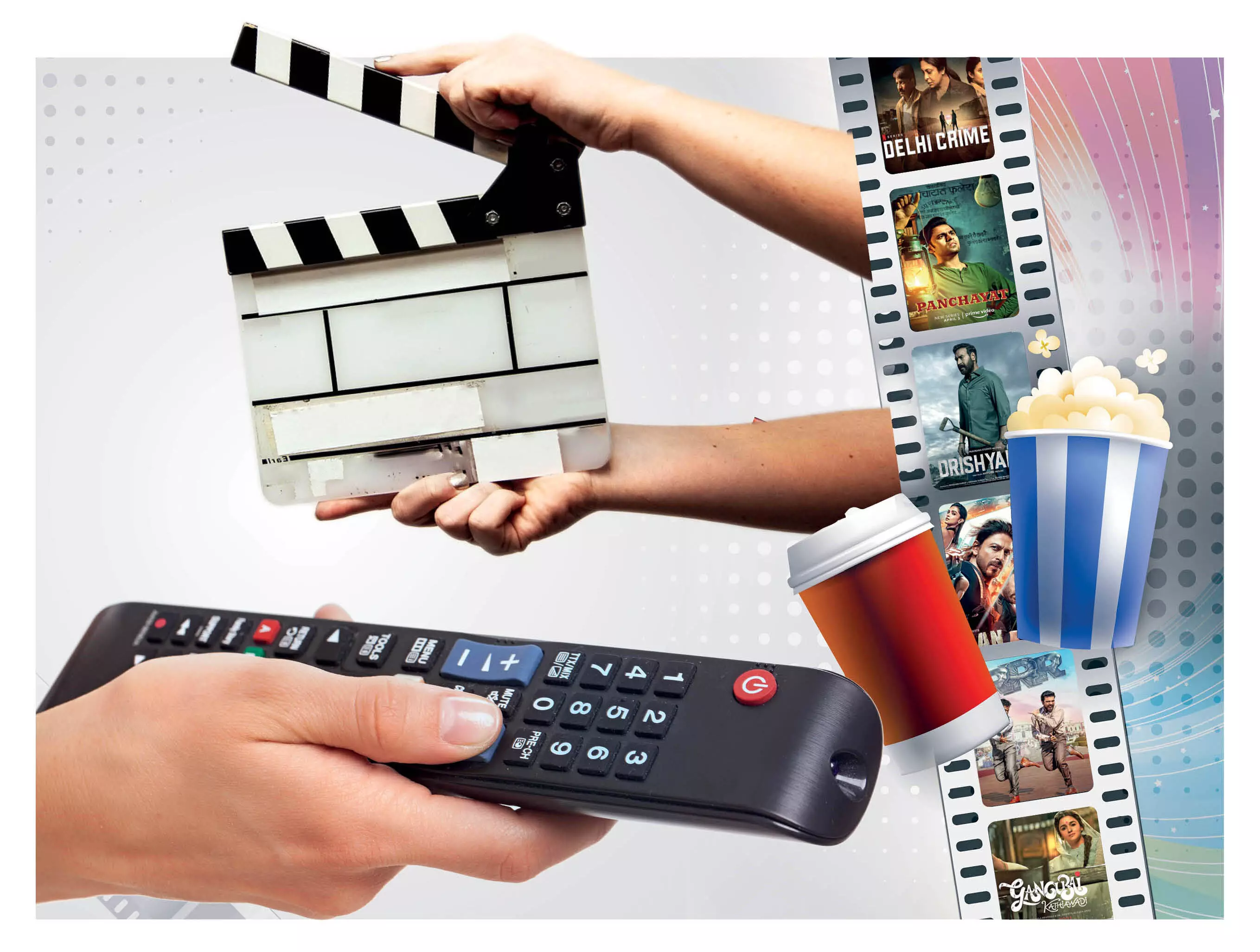 At Cannes for the screening of his film 'Kennedy', filmmaker Anurag Kashyap compared the business strategies of the streaming platforms to the colonialist methods of the East India Company. Talking about indie cinema, which he said is in a "very bad and confused place because of the lockdown," the 'Gangs of Wasseypur' director mentioned how the streamers behave like "your best friend" but then "start ruling you". He then expressed concern that the theatres might shut down.

In 2022, India's OTT market revenue was about $2.35 billion and by 2027, it is expected to reach almost $5.3 billion. With only a handful of films doing well at the ticket windows, Bollywood is facing stiff competition with OTT (over-the-top-media), but then the trade analysts are in no mood to believe that OTT is the new "big screen" or can even replicate the experience of watching a film in a theatre.
As the nationwide Covid-19 lockdown forced people to stay indoors, and pushed the theatres into uncertainty, the streaming platforms became the major source of entertainment. Amitabh Bachchan and Ayushmann Khurrana-starrer 'Gulabo Sitabo' became the first Bollywood film to opt for a direct OTT release and then the floodgates opened. Today, A-list actors are going all out to explore the OTT platforms. Yet, trade analysts believe the magic of the big screen will "forever live on."
"OTT is going to be there. But the charm of watching a cinema in a theatre with 200 people will never fade. Some people will prefer OTT, but for a well-made, larger-than-life entertainer, nothing can replace the big screen experience," said Bollywood's trade pundit Taran Adarsh. In an interview, Shah Rukh Khan said that the movie-going audience is not going anywhere.
Noted trade analyst Komal Nahta also negates such thoughts. "When TV came, people thought cinemas would shut down. But TV and cinema co-existed. Of course, OTT platforms have a far wider reach and the content is diverse. Of course, there's competition but cinemas will not shut down," he said.
Revolution of content
On June 12, 2020, when director Shoojit Sircar decided to release 'Gulabo Sitabo' directly on Amazon Prime Video, the theatre owners expressed extreme disappointment. Three years later, almost every production house in India has adopted this model and happily ditches theatrical release to premiere online.
Manish Kalra, chief business officer, of ZEE5 India, stated how OTT has liberated the art of storytelling with multiple formats, genres, languages, and narratives which has struck a chord with the audiences, leading them to want and ask for more. "It has expanded the entertainment industry, ushered new trends of content consumption, and most importantly raised the standards of quality content. Having said that, it is not a replacement to any medium of content consumption but an avenue for more such trends to proliferate," he said.
Monika Shergill, vice president, Content, at Netflix India, had said how "streaming has revolutionized the theatrical cinema space in India." "Titles are trying to own release windows and therefore, a lot of big-ticket films are clashing with each other at the box office. Streaming has revolutionized the theatrical cinema space in India because a lot of these big, theatrical titles come to platforms and then are available to audiences in India and globally," she said in an interview.
Soumya Mukherjee, chief operating officer, Hoichoi, Bengal's leading streaming platform, attributed the digital transformation, the availability of diverse content, creative freedom, the focus on original productions and the evolving preferences of the audience to the massive change in the entertainment industry, where OTT has become the go-to platform for actors and filmmakers. "While OTT platforms have revolutionized content consumption in India, offering convenience and a vast library of options, it is unlikely that they will completely replace the big screen experience. Therefore, the coexistence of both platforms is already happening and will continue in the future," he said.
Superstars of OTT vs top stars of cinema
From Shefali Shah, Neena Gupta, Jitendra Kumar, Sayani Gupta, Radhika Apte, and Rasika Duggal, to Priyamani, Manoj Bajpayee, and Bobby Deol, OTT has led to the birth of next-gen actors and also resurrected careers of those who otherwise would have been lost in the big screen tussle.
"Talent entering the industry for whichever medium is always a welcome addition. Otherwise, we would get bored seeing the same faces. With OTT, we have found actors of supreme talent," said trade expert Nahta.
Meanwhile, there's a word of caution for the "top stars of Bollywood" from Adarsh. "The top stars should refrain from doing films, which release direct-to-OTT. If a star is available free on OTT regularly, why would the audience shell out money and watch him on the big screen," he said.
Satadeep Saha, distributor and exhibitor of big-budget films like 'Zara Hatke Zara Bachke' and 'Spider-Man: Across the Spider-Verse' in Bengal, echoed similar sentiments. "Soon Shahid Kapoor's 'Bloody Daddy' will release on OTT. If big Bollywood actors continue to appear on OTT, their valuation reduces," he said.
'Bollywood in ICU'
Gone are the days when movies ran in the name of actors. Even Salman Khan couldn't salvage his 'Kisi Ki Bhai Kisi Ki Jaan', and Akshay Kumar's 'Selfie' bombed at BO. With the rise of OTT and South Indian movies releasing across India, Bollywood directors are trying hard to allure audiences to the theatres. Apart from 'Pathaan', 'Tu Jhoothi Main Makkar', and 'The Kerala Story', none of the Hindi cinema in 2023 managed to set the cash registers ringing. "Star power can attract the audience to the theatre on day one but after that, it's the content that brings them back. Also, it's high time producers stop making remakes," said Adarsh.
According to Kalra, the success of any project does not lie entirely on the star cast or the director or producer. "It is the story which either audiences like or don't like. Examples like 'RRR'', and 'The Kashmir Files' achieved immense success both in theatres and OTT," he said.
Hoichoi's Mukherjee believes in the age of OTT, directors must create immersive narratives, rely on larger-than-life experiences, and utilise marketing strategies to entice viewers back to theatres. "The cinematic experience and its distinct allure continue to attract many viewers," he said.
Director Pratim D Gupta, who directed 'Tooth Pari: When Love Bites' for Netflix, said it's high time filmmakers need to decide whether their ideas are worth watching on the big screen or not. "Not all stories and scripts are for the big screen. Unless it's a big event or a larger-than-life story and promises a big visual experience, we shouldn't risk it for the theatres," he said.