Mamata to hold rally in city on Dec 6 and another at Bongaon on Dec 9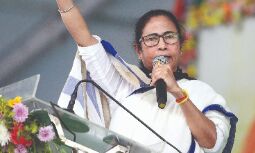 Kolkata: Trinamool Congress chairperson Mamata Banerjee will address a public rally at Bongaon in North 24-Parganas on December 9.

She will also hold another rally in Kolkata on December 6 near the statue of Mahatma Gandhi on Mayo Road.
It may be mentioned that the incident of Babri Masjid demolition was carried out on this day in 1992.
Both the rallies are crucial with only a few months left for the Assembly elections.
Party workers in North 24-Parganas are eagerly waiting to listen to Banerjee as she will be giving them the direction that to be followed to ensure win of Trinamool
Congress in all the seats in the district. The rally will be held at Gopalnagar High School Ground.
Senior Trinamool Congress leaders from the district including Jyotipriya Mallick, Nirmal Ghosh and Partha Bhowmick held a high level
meeting on Sunday to fix up the nitty-gritty.
According to a senior Trinamool Congress leader they are mainly aiming to ensure that more than 1 lakh party workers from five Assembly seats turn up in the December 9 rally.
The five Assembly constituencies are – Gaighata, Swarupnagar, Bagda, Bongaon Uttar and Bongaon Dakshin.
"Of course some people from across the district will be attending the rally. But we are concentrating so that the main turn out, that is more than 1 lakh, takes place from the five adjacent Assembly constituencies," the senior leader said adding that the party supremo will be holding rallies in all the five Lok Sabha constituencies one after the other.
The party leaders and workers are also going to intensify door-to-door campaign and street-corner meetings from December 1.
Again, senior leaders in the district will be holding rallies in every block. It may be mentioned that in between December 6 and 9, Banerjee is scheduled to hold a mega rally in West Midnapore on December 7 in which party workers from both East and West Midnapore will be
turning up. While addressing the rally at Bankura on Wednesday, Banerjee had stated that she is the observer for all districts. She will look into the functioning of the party in all districts.
She threw a challenge before the BJP saying that she will ensure victory of her party in the forthcoming Assembly elections even from jail if she is put behind the bars.
In the first major political rally since the advent of Covid, Banerjee at Sunukpahari ground in Bankura gave a clarion call to defeat BJP in Bengal saying that it will come as a major blow for the saffron party in the national level.
She had also termed BJP as a party of "garbage of lies" and "biggest curse of the nation" and stated that "Bengal is a mark of purity. It does not suit one to continuously spread canard and lies in this land of peace and harmony".